Pro Fleet Care Grants Location in Newfoundland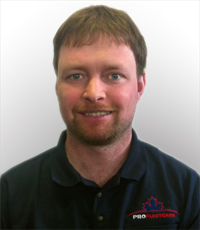 ST. JOHN'S, Newfoundland – Pro Fleet Care, a leader in the mobile fleet rust control industry, continues to expand in Eastern Canada with its newest location in Newfoundland.  Kevin Lewis joins the Pro Fleet Care family as its newest franchisee in the St. John's Metropolitan Area of Newfoundland.
Kevin first heard about the Pro Fleet Care business from his father.  Kevin's father had met Bob Lawrie, the founder of Pro Fleet Care, and thought Pro Fleet Care would be an excellent fit for his son.  "Pro Fleet Care has endless possibilities for us," explains Kevin, "I am excited to be my own boss, work close to home and provide quality workmanship.  I am eager to help businesses care for their equipment and fleet, as well as save them the time and money on corrosion repairs.  Having seen the harmful damage that rust brings, I look forward to helping businesses maintain and protect their investment."
Prior to joining Pro Fleet Care, Kevin was a full time fisherman and a contract surveyor.  "Kevin is motivated and is dependable.  I believe his business will thrive as he understands customer focus and dedication," says Bob.  "Kevin is also used to hard work and working outdoors.  We look forward to his success."
Kevin can be reached at 1-709-727-4555.
About Pro Fleet Care
Pro Fleet Care is a unique and comparatively low start-up cost business, in the growing rust protection industry. We offer the only leading edge mobile concept in the industry, providing exceptional rust control service, on site, on time and as promised.
For further information
please contact:
Pro Fleet Care
1 905 667 8595
1 866 787 8645
info@profleetcare.com
www.profleetcare.com
Comments are closed