Why Rust Control
With the introduction of pre-emergent salts, rust has become an added cost of doing business for fleet operators. Automotive manufacturers have been successful in increasing the life span of their vehicles, but no one anticipated the impact of these next-generation salts. These new salts are able to stick to the vehicles longer and are more active at lower temperatures. As a result, equipment is experiencing severe body rot, parts failures and something new—wiring harness issues—all because of corrosion. Staying on top of corrosion issues can extend the life of the vehicles and equipment, reduce repair costs and downtime, and project a clean, professional, rust-free image in the marketplace.
The Pro Fleet Care rust proofing system, in its simplicity, creates a barrier of protection for metals and neutralizes the harmful effects of salt and moisture. At Pro Fleet Care, we have developed specialized products that are a unique blend of chemicals that penetrate into hard to reach seams and crevices. This, in combination with our unique two step application process, results in a superior rust control system.
Alternative rust proofing solutions such as tar, waxes and tackified oils, do not have the same penetrating abilities and therefore can leave whole areas of the vehicle left untreated. However, because the Pro Fleet Care rust proofing system penetrates, we can ensure all areas of your vehicles are protected. Rust is not selective – moisture and salt will find their way into almost every area of a vehicle.
Pro Fleet Care protected billions of dollars worth of assets for our customers annually. Pro Fleet Care has demonstrated to customers that, on average, for every $1 spent on the Pro Fleet Care rust control system, customers can expect to save $6.
School Bus Example - Areas of Protection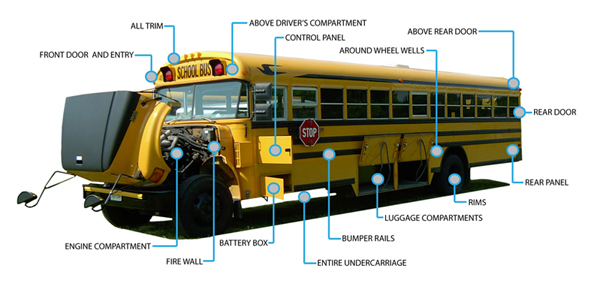 passenger vehicles
medium to heavy duty trucks
trailers
buses
landscape equipment
tractors
farm equipment
scales and dock plates
cranes
building structures
agriculture
construction
crown corporations
federal agencies
fleet operators
intercity bus lines
local agencies
local utilities
municipal agencies
transit commissions
passenger vehicles
medium to heavy duty trucks
trailers
buses
landscape equipment
tractors
farm equipment
scales and dock plates
cranes
building structures
agriculture
construction
crown corporations
federal agencies
fleet operators
intercity bus lines
local agencies
local utilities
municipal agencies
transit commissions