Pro Fleet Care Continues its Expansion into the USA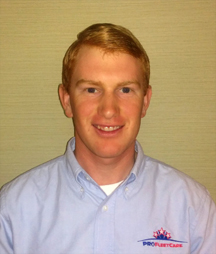 WASHINGTON BORO, Pennsylvania – Pro Fleet Care, a leader in the mobile fleet rust control industry, is proud to welcome Dervin Charles to its growing dealership family in the United States of America. Dervin is the newest dealer serving the Southern Pennsylvania area.
Prior to opening his own business, Dervin worked for a friend of the family in their landscape company.  Dervin's boss, a current customer of Pro Fleet Care, encouraged Dervin to purchase the business when it became available as he saw that Dervin not only had the drive and desire, but knew Dervin would do a great job.
"I first heard about Pro Fleet Care after reading an article in the Farm Show Magazine and I also already knew someone who was a Pro Fleet Care dealer," explains Dervin.  "The business model appealed to me because it requires low investment and low overhead, but also because Pro Fleet Care helps other business owners by combating the harmful effects of corrosion."   Having been in the business for only a short time, Dervin is already known in his area for his customer service and attention to detail, which is certainly reflected in his work as a Pro Fleet Care dealer and technician.
"Pro Fleet Care has been actively growing its U.S.A. dealership organization over the past few years and is seeing great success in this market.  Dervin is a great addition to our team as he is familiar with hard work and dedication.  I am confident he will be an excellent service provider to his community," says Greg Lawrie, President of Pro Fleet Care.  "It has been great working with him and training him in our application process as he is a quick learner and self-starter.  His understanding of business and customer service will prove to be a great asset for his business."
Dervin Charles can be reached at 1-717-875-5555.
About Pro Fleet Care
Pro Fleet Care is a unique and comparatively low start-up cost business, in the growing rust protection industry. We offer the only leading edge mobile concept in the industry, providing exceptional rust control service, on site, on time and as promised.
For further information
please contact:
Pro Fleet Care
1 905 667 8595
1 866 787 8645
info@profleetcare.com
www.profleetcare.com
Comments are closed