South Central Wisconsin
(Columbia, Dodge, Jefferson, Waukesha Counties)
Regional Service Provider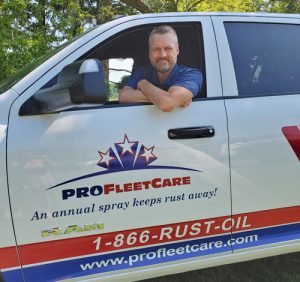 Rick Steines is the owner / operator of Pro Fleet Care South Central Wisconsin. Prior to joining Pro Fleet Care, Rick was an auto body restoration technician for 30 plus years. Rick learned about Pro Fleet Care while working on customers' cars that had been treated.  Rick's extensive experience in auto restoration and rust repair allows him to have a better understanding of the corrosive effects of salts on vehicles and the costly effects of the repairs.
Rick is committed to good workmanship and he aims for customer satisfaction.
In Rick's spare time, he enjoys hunting, being outdoors, and spending time with his family and grandchildren.
South Central Wisconsin
123235 Big Rapids Rd
Stratford
United States