Pro Fleet Care Signs Sixth Franchise Agreement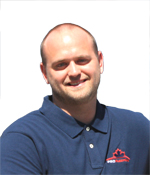 HAMILTON, Ontario – Pro Fleet Care, Canada's leading mobile rust control provider, is excited to announce that Aaron Hume has been awarded the sixth franchise. Aaron's franchise will service the Hamilton / Grimsby area.
Pro Fleet Care Franchising Inc., based in Dundas, Ontario provides on site, on time mobile rust control to fleet owners and business. The company proudly bills itself as the only completely mobile rust control franchise in the industry.
The Hamilton/Grimbsy area is a great market for Pro Fleet Care, according to Aaron. "I've lived in the area for over 25 years. I know just how rust can cause damage to expensive equipment and if not protected can quickly spread, costing fleet owners thousands in repairs. I am very excited to open a Pro Fleet Care business. During these economic times, fleet owners are looking for ways to extend the life of their heavy equipment and vehicles and they understand the value in spraying them to prevent rust."
A graduate of the General Machinist program at Mohawk College, Aaron worked in various positions but quickly found that he was not in control of his future due to economic uncertainties. With a long history of entrepreneurs in his family, Aaron also wanted to own his own business. Aaron researched the many opportunities and discovered the Pro Fleet Care franchise online. "It wasn't until I began researching and speaking to Greg and Bob Lawrie, that I realized the many benefits of owning a rust control business. With a proven track record of success and a commitment to customer service, Pro Fleet Care was the perfect fit," he added.
"We are excited to have signed our sixth franchise agreement. The Hamilton Area is where we first launched the mobile business some 25 years ago," said Greg Lawrie, president, Pro Fleet Care Franchising Inc. "Because of Aaron's commitment to customer service and his exceptional drive and ambition, he will be a great complement to the business and our franchise family".
Aaron Hume can be reached at 905-512-5219.
About Pro Fleet Care
Pro Fleet Care is a unique and comparatively low start-up cost business, in the growing rust protection industry. We offer the only leading edge mobile concept in the industry, providing exceptional rust control service, on site, on time and as promised.
For further information
please contact:
Pro Fleet Care
1 905 667 8595
1 866 787 8645
info@profleetcare.com
www.profleetcare.com
Comments are closed