Pro Fleet Care Celebrates 25 Years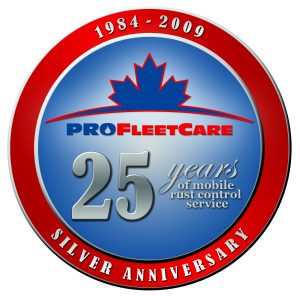 DUNDAS, Ontario – Bob Lawrie, founder of the mobile rust control industry, celebrates with his company, Pro Fleet Care, 25 years of providing mobile fleet rust protection.
Starting out in the industry as a franchisee with Rust Check, a leading rust control organization, Bob Lawrie quickly saw a demand for mobile fleet rust protection services. On December 1st, 1984, Bob purchased his first truck, developing the first mobile unit of its kind. Two years later, Bob was one of the original founders of today's largest rust control organization in Canada. Bob's continued success in the mobile segment of his business led him to start his own company in 1991. Pro Fleet Care has grown in popularity and has firmly established itself as the only mobile fleet rust control franchise in Canada.
A shop manager of a large school bus company and a long term customer of Pro Fleet Care stated, "It has paid to use the services of Pro Fleet Care. Before using Pro Fleet Care, we would be required to do body work within the first five years of purchasing a new bus. Since getting on the Pro Fleet Care yearly treatment program, we have not had to do any body work as a result of rust. This has provided us significant annual savings of vehicle down time as well as hundreds of thousands of dollars. It has been my experience that Pro Fleet Care has kept our fleet in great shape while considerably decreasing our operating costs. I would strongly recommend them to any fleet operator."
Greg Lawrie, Bob's son and company president, further confirmed that "Rust is the cancer of steel. Millions of dollars in repairs to equipment and vehicles are spent as a direct result of rust. Our business is uniquely positioned to eliminate the high costs of corrosion that fleet managers encounter. At Pro Fleet Care, we've developed a proprietary rust protection product, Rust Oil. The product has been designed in order to penetrate hard to reach areas, but also to protect the exterior trim such as door handles, mirrors and bumper rails. We believe that rust control should protect the entire vehicle, from the undercarriage, fenders, doors, door posts, hood, and trunk all the way up to the roof line. We've established this total process because we know that rust is not selective. Customers have our commitment that we will do everything possible to protect their vehicle and equipment."
Since the launch of Pro Fleet Care Franchising in 2007, the company now boasts a total of 6 locations. The franchise is a unique and comparatively low start-up cost business in this highly profitable rust protection industry. Being the only franchise mobile concept in the industry, Pro Fleet Care prides itself in offering its customers the ability to save money, as well as protect and extend the life of expensive equipment. We are providers of Exceptional Rust Control Service, On site, On time and as Promised. Our franchise package includes everything you need to get started in this highly profitable industry. Our motto "an annual spray keeps rust away" says it all.
About Pro Fleet Care
Pro Fleet Care is a unique and comparatively low start-up cost business, in the growing rust protection industry. We offer the only leading edge mobile concept in the industry, providing exceptional rust control service, on site, on time and as promised.
For further information
please contact:
Pro Fleet Care
1 905 667 8595
1 866 787 8645
info@profleetcare.com
www.profleetcare.com
Comments are closed