Pro Fleet Care Open for Business in Burlington / Oakville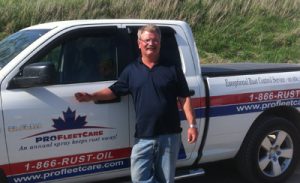 BURLINGTON, Ontario – Greg Lawrie, President of Pro Fleet Care, is pleased to announce that Bruce Williamson has joined the Pro Fleet Care team of franchise operators in the Burlington / Oakville, Ontario area.
For Bruce, the timing was just right for making the switch from being a Fleet Service Manager and Truck Mechanic to owning his own franchise in the rust protection industry. Over the past 20 years Bruce was a key player in his family owned trucking company.
Greg Lawrie says, "Our Burlington/Oakville expansion further shows the demand for our mobile rust control services. Fleet and equipment owners have been seeking out our service as we have demonstrated that our program helps customers maintain their equipment from the harmful effects rust can cause. This area is a key market for Pro Fleet Care and its mobile services; we have truly taken our time to find the right franchisee for the area. Bruce brings a wealth of fleet and equipment knowledge through his previous employment and knows firsthand the negative impact and high costs that rust cause on trucks, trailers and equipment. I am excited to partner with Bruce," Greg adds," he has already demonstrated that he will do a great job for his customers".
"I have been wanting to make a change and Pro Fleet Care was a perfect fit for me. I am thrilled to be part of an established, locally owned and operated company that is known to provide exceptional customer service and satisfaction with a high quality product," says Williamson.
Greg further stated that he is thrilled to see yet another franchisee in place. "Several new franchisees were added in the past year throughout Ontario and now Bruce Williamson in the Burlington/Oakville Area will further build on this momentum. While we now have over 14 franchisees in the province, we still have key franchise opportunities available. For those who were thinking about finding out more, it would be a good idea to contact us sooner rather than later."
Bruce Williamson can be reached at 1 905 630 0011.
About Pro Fleet Care
Pro Fleet Care is a unique and comparatively low start-up cost business, in the growing rust protection industry. We offer the only leading edge mobile concept in the industry, providing exceptional rust control service, on site, on time and as promised.
For further information
please contact:
Pro Fleet Care
1 905 667 8595
1 866 787 8645
info@profleetcare.com
www.profleetcare.com
Comments are closed