Pro Fleet Care Expands into North Carolina and Eastern Tennessee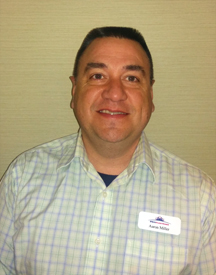 BOONE, North Carolina – Aaron Miller, a local of Boone, celebrates the grand opening of his Pro Fleet Care business. It is the brand's first dealership serving the North Carolina and Eastern Tennessee area.  Pro Fleet Care provides mobile rust control services to fleet owners and businesses. The company is the first ever mobile rust control service provider, having developed the industry in 1984 when Bob Lawrie, its founder, noticed a demand for such a service.
"Last year while reading a trade journal, I came across an article about Pro Fleet Care," said Aaron.  "The business model sounded very interesting, so I began to investigate further.  What I found was surprising – their dealers and customers were very positive about the brand.  However, having been a Police Captain, I was still very skeptical.  So I decided to take a trip to Canada to personally meet the founders and to see what they were all about.  As a result of meeting the team and understanding the business, I began the process of becoming a dealer."
Aaron further adds, "It is my desire to service the local area of North Carolina and Eastern Tennessee in order to help locals better protect their vehicles and equipment.  In the process I plan to develop a successful business that my sons Casey and Jacob can take over one day.  I share the same vision Bob Lawrie and his son Greg share, to develop a successful brand while serving customers' needs."
"Pro Fleet Care is the leader in mobile rust control," said Greg Lawrie, President of Pro Fleet Care. "In 1984 my father set up the first ever mobile rust control unit.  Over the past 30 years we have worked with small fleet owners to larger Fortune 100 Companies, government agencies, both small and large, as well as farmers and landscapers.  If you have rust or corrosion issues, we want to help.  Clients can expect to save $4 to $6 on corrosion related expenses for every $1 spent on our rust control program.  Our clients find that our service will help them reduce, and in many cases eliminate, corrosion repairs to brake lines, wiring harnesses, as well as body corrosion.  I'm delighted that Aaron has joined our dealership family in the U.S.A., I know his business will be a success because his core values are the same as ours."
Aaron can be reached at 1 828 414 4279.
About Pro Fleet Care
Pro Fleet Care is a unique and comparatively low start-up cost business, in the growing rust protection industry. We offer the only leading edge mobile concept in the industry, providing exceptional rust control service, on site, on time and as promised.
For further information
please contact:
Pro Fleet Care
1 905 667 8595
1 866 787 8645
info@profleetcare.com
www.profleetcare.com
Comments are closed