Continuing Expansion in Pennsylvania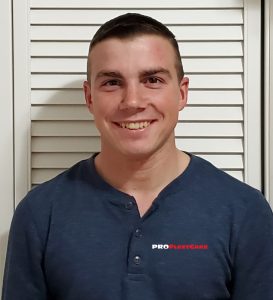 DENVER, Pennsylvania – Pro Fleet Care is excited to announce that we are expanding once again with the addition of Jason Weaver as our newest dealer.  Jason who is the owner / operator of our Pro Fleet Care Southeast Pennsylvania territory will be servicing clients in Northern Lancaster, Chester and Delaware counties.
"I learned about Pro Fleet Care through a neighbor who had begun treating his vehicle with Pro Fleet Care's rust control products," said Jason.  "I, too, became a client after seeing how the products protected vehicles from the harmful effects of rust.  Dervin Charles, the owner of Pro Fleet Care Southern Pennsylvania, approached me one day with the opportunity to take over his Northern Lancaster business as Dervin's business had grown substantially and he wanted to make sure his clients would be able to receive the high standards of service they had become accustomed to.  After a couple meetings with Greg Lawrie, the president of Pro Fleet Care, it didn't take me long to decide to join Pro Fleet Care".
"Prior to joining Pro Fleet Care, I serviced equipment, farmed, and worked in the manufacturing of feed equipment," Jason continues. "I am customer focused and dedicated to good workmanship. With my experience in the service industry, I know the value of services that can save the customer both time and money. I  know with Pro Fleet Care's great products and thorough process, I can offer my clients the best service and protection for their fleets."
"The first time I met Jason I knew he would be a great fit," said Greg Lawrie, president of Pro Fleet Care.  "I could tell from the way he greeted us that he understood customer service.  Pro Fleet Care's success can be attributed to the fact that our team members own and operate their own business.  Our first priority is providing great products and service – something that clients appreciate.  Anyone can spray a vehicle, but will they spray it well or will they take shortcuts in order to save time and make more money.  We believe that it's important to spray our clients' vehicles well, making sure not to miss anything because our goal is to save our clients' time and money."
Over the past 30 years, Pro Fleet Care has worked with small fleet owners to larger Fortune 100 companies, government agencies, both small and large, as well as farmers and landscapers.  Clients can expect to save $4 to $6 on corrosion related expenses for every $1 spent on our rust control program.  Customers find that Pro Fleet Care's service helps them reduce, and in many cases eliminate corrosion repairs to brake lines, wiring harnesses and body panel corrosion.
Jason can be reached at 1-717-454-9636 or jason@profleetcare.com.
About Pro Fleet Care
Pro Fleet Care is a unique and comparatively low start-up cost business, in the growing rust protection industry. We offer the only leading edge mobile concept in the industry, providing exceptional rust control service, on site, on time and as promised.
For further information
please contact:
Pro Fleet Care
1 905 667 8595
1 866 787 8645
info@profleetcare.com
www.profleetcare.com
Comments are closed