Pro Fleet Care Continues its Expansion in Ontario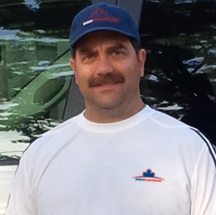 VAUGHAN, Ontario – Local fleet owners are about to get the rust control service they deserve.  Greg Lawrie, President of Pro Fleet Care, announced today that the company has added yet another new franchise location in the city of Vaughan, Ontario.
"Paolo Torchetti is thrilled to become part of the Pro Fleet Care team of franchisees.  He can't wait to get out there and provide the exceptional service to the local area fleet owners," said Greg.
According to Paolo, "I was attracted to Pro Fleet Care because I like the fact that I'm truly working on my own, being my own boss, while still having full support from Head Office and other franchisees."  He further adds, "I come from the manufacturing industry and I understand how important it is to keep your equipment maintained and in good working condition.  Being a business owner, I know the value of a satisfied customer.  I always keep in mind that we all make mistakes.  But it is how you resolve issues that keep customers happy."
Greg Lawrie agrees, "Paolo's work experience in his family's manufacturing business for over 30 years brings a solid understanding of customer service and work ethic."
Pro Fleet Care Franchising Inc. launched a strategic franchise development program in August 2007 and the company has been growing strong ever since. The program, the only mobile concept in the rust control industry, is designed around the utmost in customer service.  With the goal to attract the right franchise partners, who have the drive to be their own boss but may not have the large financial requirements that it takes to typically invest in a franchise, the program is one of the lowest franchise investments in the industry.
Paolo can be reached at 1-647-234-1647.
About Pro Fleet Care
Pro Fleet Care is a unique and comparatively low start-up cost business, in the growing rust protection industry. We offer the only leading edge mobile concept in the industry, providing exceptional rust control service, on site, on time and as promised.
For further information
please contact:
Pro Fleet Care
1 905 667 8595
1 866 787 8645
info@profleetcare.com
www.profleetcare.com
Comments are closed