Eastern Pennsylvania
(Luzerne, Lackawanna, Wayne Counties)
Regional Service Provider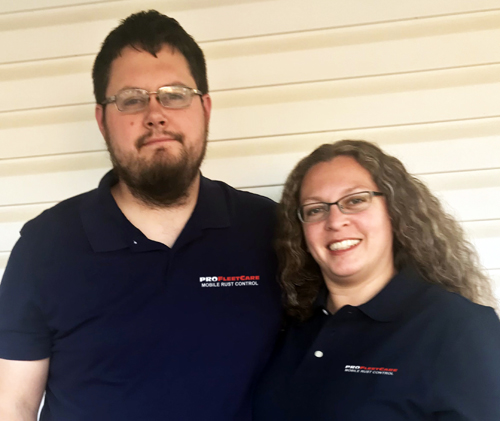 Joe and Sabrina Wagner are the Owner-Operators of Pro Fleet Care located in Eastern Pennsylvania.  They are a husband-and-wife team committed to providing rust prevention services and quality customer care.
Joe is a graduate of Johnson College with an Associate's Degree in Diesel Technology.  Prior to joining Pro Fleet Care, he worked as a diesel technician/mechanic.  Joe has first-hand experience working on heavy duty trucks and equipment.  He understands the damaging effects of rust and is dedicated to helping customers protect their fleets.
Sabrina is a graduate of Keystone College with a Bachelor's degree in Elementary Education.  She understands the importance of quality communication and building customer relationships. Sabrina has been an administrator/manager of her school for seven years.
This dynamic duo has three children and is family oriented. They enjoy taking their family on trail rides, hiking, and attending their children's extra-curricular activities in their spare time.
Eastern Pennsylvania
40 sand street
18407
carbondale
United States