New Pro Fleet Care Owner in Niagara / Haldimand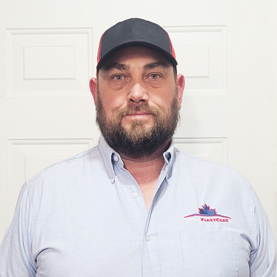 NIAGARA FALLS, Ontario – Pro Fleet Care, leader in the mobile rust control industry, is pleased to announce Doug Dekker as the owner of its Niagara / Haldimand franchise.
"This spring, my father shared a FaceBook post with me about Pro Fleet Care Niagara's dealer looking to retire and sell their business," explains Doug. "I have been in the automotive fleet services industry for the last 21 years and knew about the benefits of rust proofing so I contacted Pro Fleet Care.  While exploring the business, I learned that Pro Fleet Care's mobile concept allowed customers to schedule appointments at their location while working around their schedule.  This is a huge benefit as fleet owners are able to reduce the cost and downtime of transporting vehicles off site.  In addition, one of the benefits for the Pro Fleet Care dealer includes not having the expense of a brick and mortar shop."
"At Pro Fleet Care, we look for customer-minded, hard working individuals," said Greg Lawrie, President and Co-founder of Pro Fleet Care.  "Our customers trust us with some pretty expensive equipment and vehicles.  They expect us to provide the best possible products and services and that's what we do.  Doug's extensive knowledge of the fleet industry and his hands-on work approach makes him a great fit."
"I liked what I heard while speaking with Greg, so I reached out to several fleet owners I had previously worked with. It became evident that the Pro Fleet Care business was a needed service in our local market. So I agreed to purchase the business and began the training process.  I am excited to be able to help fleet owners extend the life of their fleet while saving them time and money."
Over the past 35 years, Pro Fleet Care has been the leader in mobile rust control.  With over 60 mobile dealers throughout North America, Pro Fleet Care provides services to individuals, farmers, landscapers, large and small fleet owners, governmental agencies, and Fortune 100 companies on site, at the customer's location. Customers find that Pro Fleet Care's products reduce, and in many cases eliminate, corrosion repairs to brake lines, wiring harnesses, and body corrosion. Pro Fleet Care's clients have found that they save on average $6 on corrosion-related expenses for every $1 spent on its rust control program. Pro Fleet Care provides its customers with excellent workmanship, giving its customers the highest level of protection against corrosion.  To learn more about joining Pro Fleet Care as a dealer or to have your vehicles serviced, go to www.profleetcare.com for more information.
Doug can be reached at (905) 531-5399 or niagara@profleetcare.com.
About Pro Fleet Care
Pro Fleet Care is a unique and comparatively low start-up cost business, in the growing rust protection industry. We offer the only leading edge mobile concept in the industry, providing exceptional rust control service, on site, on time and as promised.
For further information
please contact:
Pro Fleet Care
1 905 667 8595
1 866 787 8645
info@profleetcare.com
www.profleetcare.com
Comments are closed