New Eastern Pennsylvania Dealer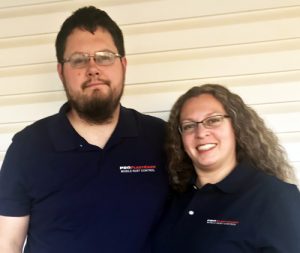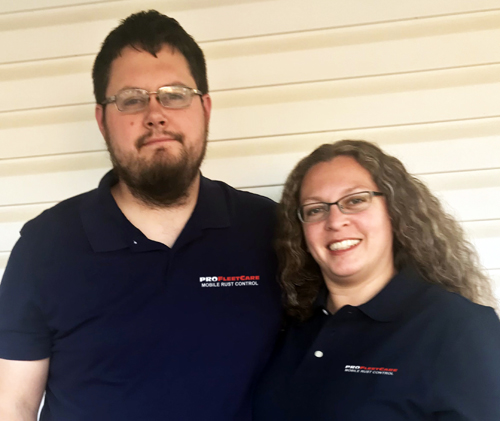 SCRANTON, Pennsylvania – Pro Fleet Care, leader in mobile rust control services, is excited to announce Joe and Sabrina Wagner as the owner / operators of its Eastern Pennsylvania dealership. Joe and Sabrina will be servicing clients in Luzerne, Lackawanna and Wayne Counties. 
"We had been searching for quite some time for a business that we believed in and could stand behind when we happened across an ad for Pro Fleet Care on the internet," explains Sabrina.  "While researching Pro Fleet Care, we became confident that this was a service that our community could really benefit from."
Prior to joining Pro Fleet Care, Joe worked as a diesel mechanic for nine years as well in the trailer manufacturing industry for seven years. "I have seen the harmful effects corrosion can cause fleet owners," Joe added. "During the years of working on heavy duty trucks and equipment, I have seen the damage to wiring harnesses, frame jacking and body rot.  The annual maintenance provided by Pro Fleet Care is going to save my clients a lot of money, due to downtime and repairs caused by rust.  This just makes sense."
"I'm very excited to announce Joe and Sabrina have joined our Mobile Rust Control business," says Greg Lawie. "Sabrina's experience as an administrator / manager will allow her to help Joe with the office responsibilities, while Joe will be able to focus on developing clientele and spraying fleets.  The key to Pro Fleet Care's business philosophy and success is to provide great products, while teaming up with strong dealers who provide our clients great service and application.  With Pro Fleet Care's knowledge of corrosion control and the Wagners desire to service their community, we are confident that Joe and Sabrina will develop a very successful business."
Over the past 35 years Pro Fleet Care has been the leader in mobile rust control.  With over 50 mobile dealers throughout North America, Pro Fleet Care provides services to individuals, farmers, landscapers, large and small fleet owners, governmental agencies, and Fortune 100 companies on site, at the customers location. Customers find that Pro Fleet Care's products reduce, and in many cases eliminate, corrosion repairs to brake lines, wiring harnesses, as well as body corrosion. Pro Fleet Care's clients save $4 to $6 on corrosion related expenses for every $1 spent on its rust control program. Pro Fleet Care provides its customers with excellent workmanship giving its customers the highest level of protection against corrosion.  To learn more about joining Pro Fleet Care as a dealer or to have your vehicles serviced go to www.profleetcare.com for more information.
Joe and Sabrina can be reached at (570) 507-0554 and (570) 575-1450 or wagner@profleetcare.com.
About Pro Fleet Care
Pro Fleet Care is a unique and comparatively low start-up cost business, in the growing rust protection industry. We offer the only leading edge mobile concept in the industry, providing exceptional rust control service, on site, on time and as promised.
For further information
please contact:
Pro Fleet Care
1 905 667 8595
1 866 787 8645
info@profleetcare.com
www.profleetcare.com
Comments are closed