8 Year Anniversary for Brantford/Simcoe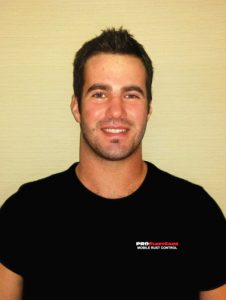 BRANTFORD, Ontario – Pro Fleet Care is pleased to announce the 8th anniversary of Matt Lamont joining their Mobile Rust Control dealer network. Matt learned about the business opportunity when he was introduced by a friend to Greg Lawrie, president of Pro Fleet Care. "A couple of years into a factory lifestyle, working at a major steel mill in Hamilton, I quickly realized it was not going to suit my career goals or my personal life. That is when I was presented with the opportunity to join Pro Fleet Care," said Matt. "I always admired my father for his work ethic and business values in owning his own business. I knew that if given the chance, I would thrive as an owner-operator. When I met Greg, and learned more about Pro Fleet Care, it was very clear that he cared about mentoring me and helping me to achieve both personal and professional growth."
"When I met Matt, I was really impressed with this young man," said Greg. "We had taken a chance on Justin Weaver who was just 19 when he joined our business and I saw a lot of the same characteristics in Matt that we saw in Justin. The fact that both their fathers were supportive also helped us make the decision to partner with them. My father has always had my back, so I was confident that as long as Matt had the support of his father and our team, he would be every bit as successful as Justin turned out. I'm happy we decided to work with Matt." Matt has developed a successful clientele servicing clients' vehicles and equipment at their location and on their time frame. Clients save money, time and limit exposure to risk as they no longer need to take them to a shop to be sprayed. 
As an owner/operator, Matt personally looks after spraying every vehicle ensuring that only quality work is performed. Pro Fleet Care customers save on average $6 in corrosion related body repairs for every $1 spent on their program. That is a big savings when you consider the fact that those savings do not take into account the cost to replace corroded parts due to corrosion. "Last year was my best year on record," said Matt, "with our unique process we were able to assure our clients that we could service their fleet safely and effectively while working within COVID guidelines." Greg added, "With fleet owners, farmers and the general public looking for ways to save money due to the economic unrest COVID has caused, we are finding more clients are looking for ways to extend their fleet's life." 
Matt can be reached at 905-807-8835 or matt@profleetcare.com.
About Pro Fleet Care
Pro Fleet Care is a unique and comparatively low start-up cost business, in the growing rust protection industry. We offer the only leading edge mobile concept in the industry, providing exceptional rust control service, on site, on time and as promised.
For further information
please contact:
Pro Fleet Care
1 905 667 8595
1 866 787 8645
info@profleetcare.com
www.profleetcare.com
Comments are closed